Anantara Al Jabal Al Akhdar Resort by Atelier Pod on Forbes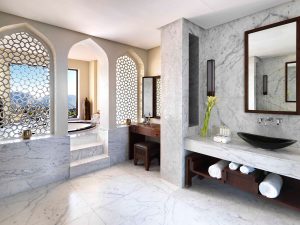 Shortly after itsinauguration last fall, AnantaraJabalAkhdar, starred in the popular BBC show Top Gear, with actor Matt LeBlanc racing a Ducati Superleggera motorcycle up that twisting highway to arrive just in time for sunset at Diana's Point.
The point is named after the Princess of Wales who visited in the '80s and lingered over the view herself.
The extensive nature of the Jabal Al Akhdar campus manages to host 115 rooms and villas, the architect Lotfi Sidirahal from Atelier Pod has drawn from his French-Moroccan backgroundmany Omani motifs throughout the resort, particularly in designing the riad-like central space off the lobby, with a shop and a library.
In all of the more than eighty rooms, the large majlis seating area is a foretaste into the traditional Arabic style of family living, and here date varieties and local fruits are set out, and even come with tiny illustrated booklets explaining their characteristics.
Read the full article on:
https://www.forbes.com/sites/johnoseid/2017/04/26/anantara-al-jabal-al-akhdar-resort-a-luxury-aerie-opens-in-the-mountains-of-oman/#5624ec4757c2